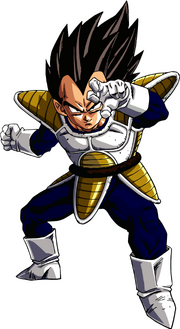 En Vegeta (ベジータ Bejīta) és l'etern rival d'en Goku, és el príncep de la, pràcticament extinta, raça dels guerrers de l'espai, i va sobreviure gràcies a la pietat d'en Frízer. Durant molts anys es va dedicar a conquerir planetes venent-los al mateix Frízer fins que arribà a la Terra i va conèixer a en Goku. Des de llavors cada cop que ha aparegut a la pantalla, se'ns ha presentat un Vegeta més bo i amable cap als altres (excepte quan el va posseir Babidi). Ha lluitat sempre contra els enemics d'en Goku, però no amb gaire èxit doncs sempre acabava derrotat i humiliat per un Goku que el supera. Tot i passar-se a la banda dels "bons", conserva el seu mal caràcter. Es casa amb la Bulma i té un fill, en Trancs, més tard té una filla que es diu Bula.
Ad blocker interference detected!
Wikia is a free-to-use site that makes money from advertising. We have a modified experience for viewers using ad blockers

Wikia is not accessible if you've made further modifications. Remove the custom ad blocker rule(s) and the page will load as expected.