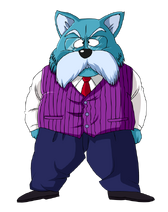 El Rei de la Terra (国王,Koku-ō) és un gos humanoide de color blau que regna sobre les 43 zones administratives que constitueixen la federació terrícola, un dels seus poders, i el més destacat a la sèrie, és el de donar ordres a l'Exèrcit de la Terra. Viu a la capital del Regne, la Capital del Nord, al Castell del Rei, protegit per la Guardia Reial.
Ad blocker interference detected!
Wikia is a free-to-use site that makes money from advertising. We have a modified experience for viewers using ad blockers

Wikia is not accessible if you've made further modifications. Remove the custom ad blocker rule(s) and the page will load as expected.