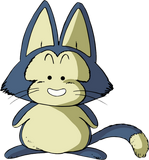 En Puar (プーアル, Pūaru) és un gat humanoide que te l'habilitat de transformar-se en el que vulgui, va compartir classe amb l'Ulom al Parvulari de Transformació i més tard va posar les seves habilitats al servei d'el bandit del desert anomenat Iamxa, amb ell va voler pendre les boles de drac a la Bulma i en Son Goku, però es van acabar fent amics i aliats contra en Pilaf, que també volia les boles.
Ad blocker interference detected!
Wikia is a free-to-use site that makes money from advertising. We have a modified experience for viewers using ad blockers

Wikia is not accessible if you've made further modifications. Remove the custom ad blocker rule(s) and the page will load as expected.