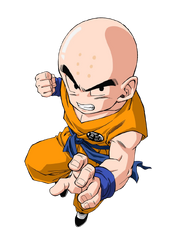 En Krilín (クリリン,Kuririn) és un dels primers amics d'en Goku, te una força per sobre del comú entre els humans i integra el grup de guerrers que defensen la Terra.
Biografia
Edit
Va neixer l'any 736 i es va entrenar al Temple d'Oorin i la seva aspiració era dominar les arts marcials per impressionar a les noies, però allí va ser objecte de burles i humiliacions i va decidir fer-se a la mar amb una barca per arribar a l'illa del Follet Tortuga i poder-se entrenar amb el conegut com a Déu de les Arts Marcials, allí es va trobar amb el Follet i en Goku, que també volia que l'entrenés. En Krilín, al corrent de les tendències del gran mestre, li va entregar una col·lecció de revistes eròtiques perquè accedís a entrenar-lo. Finalment el Follet Tortuga va accedir a entrenar en Krilín i en Goku. ...
Ad blocker interference detected!
Wikia is a free-to-use site that makes money from advertising. We have a modified experience for viewers using ad blockers

Wikia is not accessible if you've made further modifications. Remove the custom ad blocker rule(s) and the page will load as expected.