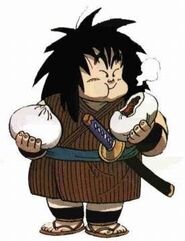 En Iajirobai (ヤジロベー Yajirobē) és un personatge gras i molt golafre que viu a la Torre de Karin, va armat amb una katana que domina amb habilitat, és fort, però actua de manera cobarda amb els enemics més perillosos.
Surt per primera vegada a la saga d'en Satanàs Cor Petit, després de que en Goku, afamat, es menji el peix gegant que ell mateix havia pescat i rostit, aleshores es posa a discutir amb ell i acudeix en Cymbal, un dels esbirros engendrats per en Cor Petit. En Iajirobai talla a rodanxes en Cymbal amb la seva katana i les rosteix per menjarseles.
Ad blocker interference detected!
Wikia is a free-to-use site that makes money from advertising. We have a modified experience for viewers using ad blockers

Wikia is not accessible if you've made further modifications. Remove the custom ad blocker rule(s) and the page will load as expected.