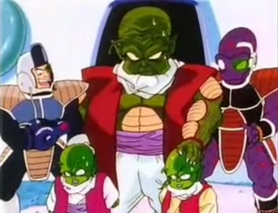 Batalla de Namek
Escenari
Planeta Namek
Causes: invasió de Namek per l'exèrcit d'en Frízer per aconseguir les boles de drac del planeta i xoc amb els natius i els guerrers de la Terra que també volien les boles.
Faccions
- Guerrers Z
- Vegeta
- Nameks
- Exèrcit d'en Frízer
- Tropes especials
Comandants
· Son Goku (líder)
· Satanàs Cor Petit Jr
· Krilin
· Son Gohan
· Vegeta
· Nail
· Frízer (líder)
· Zarbon
· Dodoria
· Kiwi
Resultat: Victòria d'en Goku sobre en Frízer, i trasllat dels nameks per la destrucció del planeta.
Ad blocker interference detected!
Wikia is a free-to-use site that makes money from advertising. We have a modified experience for viewers using ad blockers

Wikia is not accessible if you've made further modifications. Remove the custom ad blocker rule(s) and the page will load as expected.